Public speaking | Formazione
Public speaking | Formazione
Podcast ideato, prodotto e lanciato nel Novemnbre 2021 da due donne, distribuito su tutte le principali piattaforme di podcasting.
Il primo podcast italiano che tratta temi su social e digital trends tenuti da due donne imprenditrici digital, Ilaria Barbotti e Chiara Mortaroli. (Spotify, Audible, Spreaker, Apple Podcast…)
KIR ACADEMY – LA SCUOLA DI FORMAZIONE SOCIAL DI RICCARDO PIRRONE
ROMA, 2022
Docenza nei 2 moduli INFLUENCER MARKETING – TIK TOK.
CORSO KIR ACADEMY PER SOCIAL MEDIA MANAGER: IDEA di Riccardo Pirrone (Taffo, Kir). L'unico corso completo con certificazione
per diventare un Social Media Manager.
IED – ROMA  
ROMA, Febbraio/Marzo 2022 
Docenza presso lo IED di ROMA su TIK TOK e Influencer Marketing – corso SOCIAL MEDIA MANAGEMENT – coordinatore: Riccardo Pirrone (Taffo, Kir).
MENTOR – STARTUP ITALIA OPEN SUMMIT – SIOS 2021  
Bocconi Milano, 13 Dicembre 2021
MENTOR nello spazio dedicato alle donne UNSTOPPABLE WOMEN e a chi vuole lanciare la propria impresa oggi – Foyer Bocconi.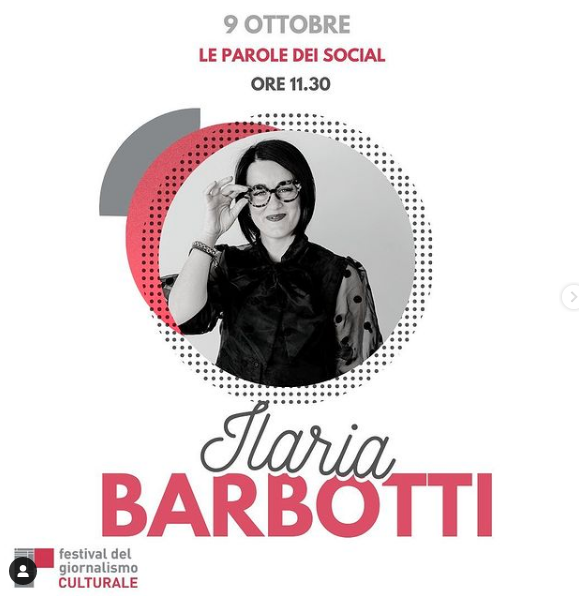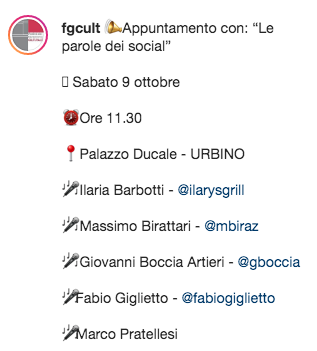 FESTIVAL DEL GIONALISMO CULTURALE
Urbino, 9 Ottobre 2021
TALK "Le parole dei social"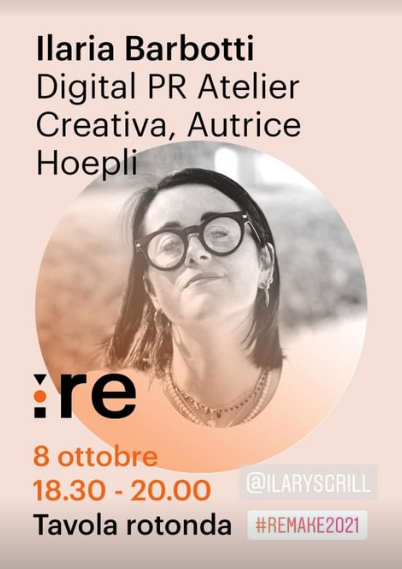 Remake Festival – Fabriano 
Fabriano, 8 Ottobre 2021 – Moderazione talk tavola rotonda
L'artigianato come rivitalizzazione del centro storico e per la promozione turistica dei borghi
Modera: Ilaria Barbotti, Digital PR Atelier – Creativa – Autrice Hoepli
Ospiti
Nicoletta Bontempi, Project Manager progetto Verso il Borgo (BS) Castello di Padernello
Sabrina Ciancone, Sindaco di Fontecchio (AQ)
Cosmano Lombardo, ideatore del WMF e CEO di Search On Media Group
Paolo Manfredi, autore di "Provincia non periferia.Innovare le diversità italiane" – responsabile nazionale per la trasformazione digitale Confartigianato Imprese
Barbara Pagnoncelli, Assessore Comune di Fabriano, attività produttive, politiche giovanili, lavoro, agricoltura e artigianato
Gabriele Santarelli, Sindaco di Fabriano – distretto appennino umbro marchigiano.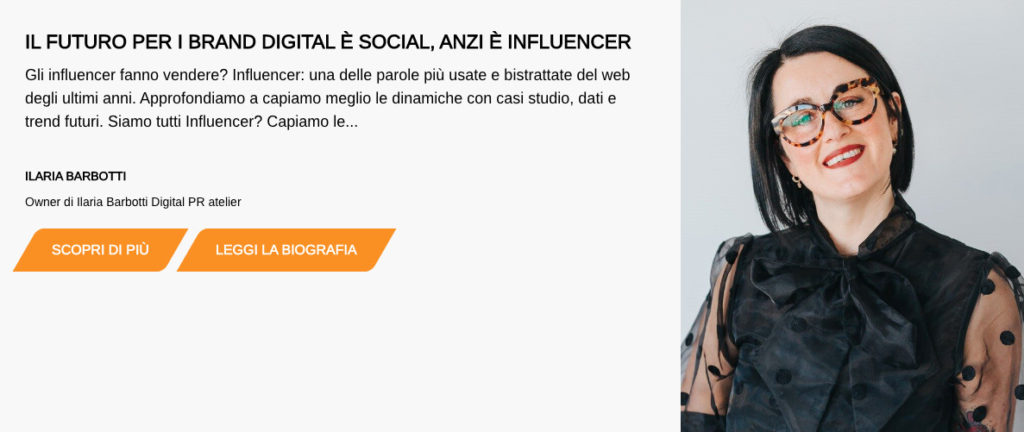 Richmond Digital Business Forum 
Rimini, Grand Hotel Ottobre 2021
3 lezioni a marketing manager – evento B2B formativo – su nuovi trend social e influencer marketing.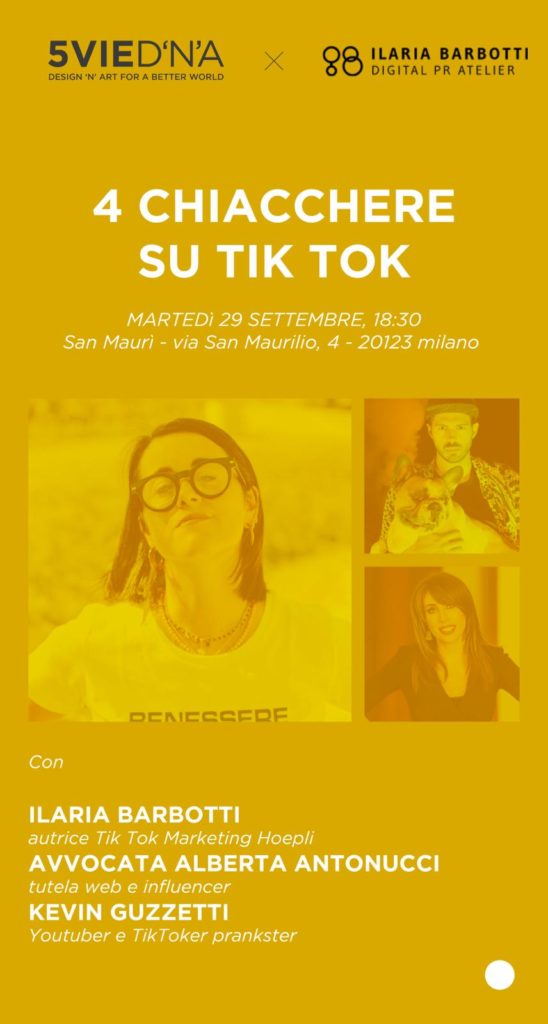 IBPR ATELIER X 5VIE DESIGN DISTRICT MILANO 
Milano Fuorisalone – Settembre 2020
Presentazione del libro Tik Tok Marketing – Hoepli con tiktoker e l'Avvocata del web Antonucci.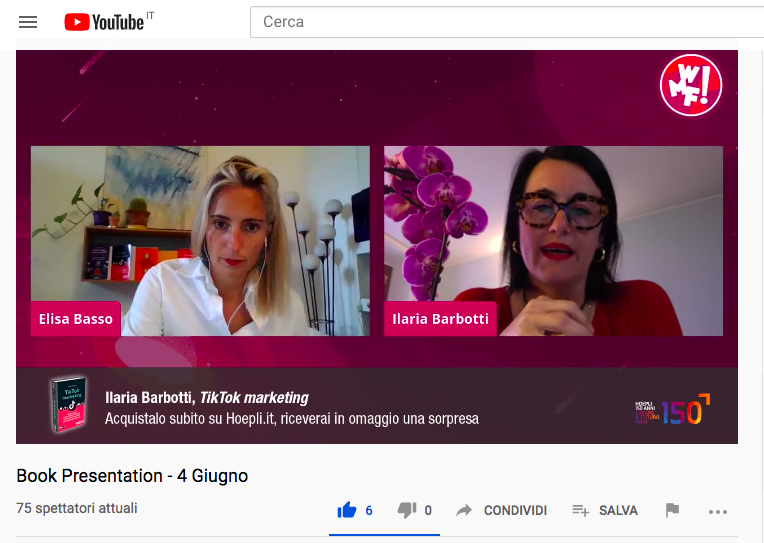 Web Marketing Festival – online edition 
Rimini, Giugno 2020 – live Youtube
Tik Tok Marketing per il business con Hoepli.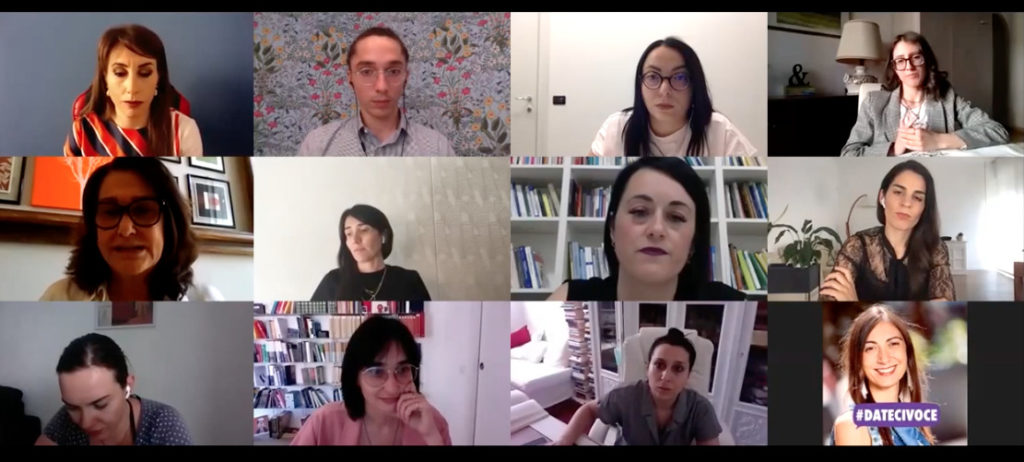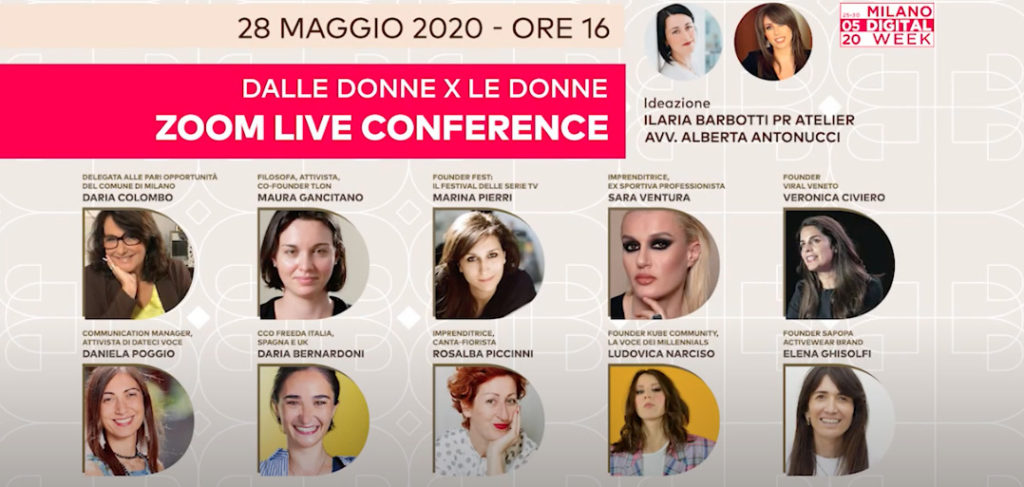 DALLE DONNE X LE DONNE – LIVE TALK – MILANO DIGITAL WEEK
Online, Maggio 2020 (lockdown) disponibile qui.
Open talk con dieci incredibili donne che fanno la differenza nel racconto, divulgazione e attivismo per la parità di genere oggi in Italia.
Richmond E-commerce Forum
Rimini, Settembre 2019
4 Lezioni intensive B2B : Instagram, il nuovo e-commerce. Focus su come gli influencer possono essere driver diretti allo shop online aziendale.
Giornata di studio: E' ancora fotografia?
Fondazione Venezia – Museo M9
Mestre, 25 Maggio 2019
Intervento : Le mode di Instagram: evoluzioni, trend e visioni sul social fotografico con approfondimento sull'etica nei social e verso i nativi digitali.
con Denis Curti, Michele Smargiassi e altri importanti esponenti del mondo fotografico, accademico e giornalistico italiano.
DIGITAL MEETING AQUEST 
La Conference dedicata ai nuovi trend di comunicazione
HUMAN TOUCH / GROWTH HACKING / STORIES / CHINA STRATEGIES / CREATIVE HACK / FOOD STRATEGY
Milano, 10 Maggio 2019
Instagram e Influencer Marketing: Strategie di coinvolgimento, etica e best practice
BIT MILANO 2019 
Milano, febbraio 2019
Panel su Influencer Marketing per le destinazioni turistiche e l'etica.
HOSPITALITY DAY RIMINI 
L'evento formativo dedicato al mondo dell'ospitalità più importante in Italia.
Rimini, 9 Ottobre 2018
Workshop formativo su Influencer Marketing per le strutture ricettive e il turismo.
WEEKENDOIT 
Festival dedicato alla condivisione e all'apprendimento delle tecniche artigianali, sia tradizionali che innovative
Ancona, 20 Luglio 2018
Workshop formativo a pagamento su Influencer Marketing per le PMI artigiane.
COMINCENTER MATERA 2019
Matera, 24 Giugno 2018
Workshop formativo a pagamento su fotografia e Instagram con Sara Melotti:
– teoria, trucchi e segreti su Instagram… restando etici!
– walk fotografico pratico per Matera
WEB MARKETING FESTIVAL
Rimini, 21 Giugno 2018
Speech: Instagram e influencer marketing, tra strategia ed etica per nuovi professioni digitali
MILANO DIGITAL WEEK
Milano 2018
Presentazione del mio libro "Instagram Marketing" presso libreria Hoepli
IIdeazione e conduzione della conferenza Samsung "L'EVOLUZIONE DI INSTAGRAM E LA SMARTPHONE PHOTOGRAPHY" presso Samsung District col fotografo Stefano Guindani e alcuni instagramer milanesi
BIT BORSA INTERNAZIONALE TURISMO
Milano 2018
Workshop formativo su Influencer Marketing per il turismo e visione future.
UNIVERSITA' DEGLI STUDI URBINO
2017
Carreer Day con gli studenti – tavola rotonda con professionisti del marketing digitale
2016
Lezione di Instagram, community e territorio nel corso Informazione Media Pubblicità.
BTO EDUCATIONAL
Firenze 2017
Speaker alla conferenza: MiBACT per la fotografia: nuove strategie e nuovi sguardi sul territorio. Una tribù che scatta. #Instagram come alfabeto delle immagini.
Insieme a Mibact, Vogue Italia, Cortona on the Move.
TTG TRAVEL EXPERIENCE
Rimini ed. 2014 – 2015 – 2016
Speaker e coordinatore di workshop su fotografia per il turismo, storytelling e instagram con ospite internazionale
IL SOLE 24 ORE BUSINESS SCHOOL
2016
Lezione di Instagram al Master in Marketing e Comunicazione Digitale
BBS BOLOGNA BUSINESS SCHOOL
2015
Lezione di Instagram Marketing al Master in Digital Marketing for Tourism & Events Management.
SOCIAL MEDIA WEEK MILANO
2015
Speaker ad una tavola rotonda su Instagram, la fotografia e i brand con Nike Italia e Brahmino.
UNIVERSITA' POLITECNICA DELLE MARCHE – Economia
2015 – 2016
Lezione di Instagram Marketing nel corso in Marketing del Prof. Micozzi e nel corso Internet e Marketing, laurea specialistica 2° anno Prof. Pascucci.
CORTONA ON THE MOVE
2013
Speaker su Instagram al Festival della Fotografia di Cortona.