Invito a Instameet exchange VENEZIA – PART 2
Il prossimo 12 Novembre..tocca a noi!
Gli igerslondon verranno nella nostra incantevole Venezia!
E' il secondo step del programma SCAMBIO IGERS di cui vi parlavo nei precedenti post …per ora vi posto solo il flyer (che è stupendo – thanks to @brassy ) e ringrazio sin d'ora tutti i partner che ad oggi hanno creduto in noi e mi hanno aiutato a rendere l'evento internazionale!
Per chi non sa che fare il prossimo weekend siamo al LIDO! tante sorprese pronte per i partecipanti e mille foto da fare!
Programma dettagliato su evento facebook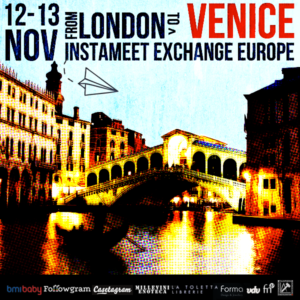 Share the love!